!! Greetings !!
 – Welcome OnBoard –
*** Please do not use your Azure Pass without my instruction . You may loose the credit amount of that azure pass . I cant recover that . Then you have to pay again for the Azure Pass ****
Disclaimer : 
Due to rapid changes in the portal and function you may seen some differences in my blog post , PPT , video or any captured moments .

We will Microsoft Official courseware and Lab guide from Github . 

Click Here

 . But it's quite old. Few script is not updated from Microsoft End . So you can expect error or problem . During class I cant help you to troubleshoot those thing .

Azure Pass is limited subscription . All location do not support all service creation .

Whatever service you will create that will cost money and that will be deducted from your subscription amount . So please delete everything before you leave the class . If you loose your credit , your subscription will be disabled .
Here you will get a complete idea about Azure courses and from where you should start . First of all let's have a look of all courses that we have in Azure LOB :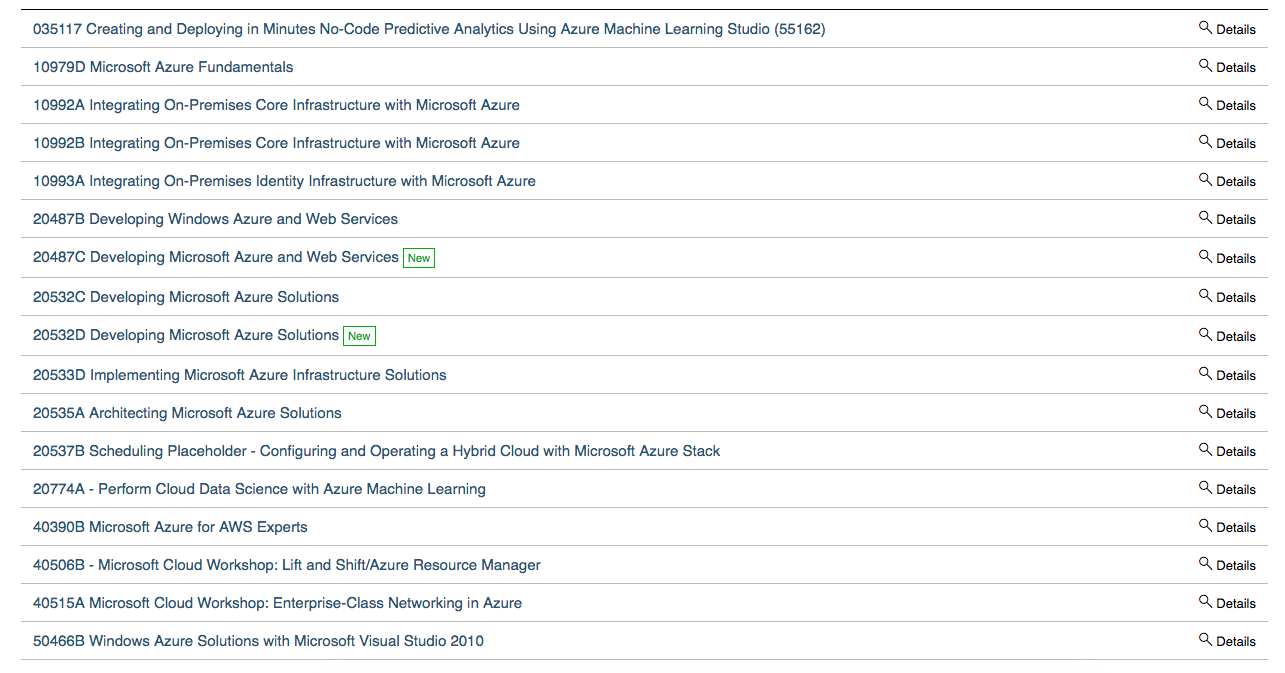 If 20-532 or 20-533 should be the starting point for most of the people . If you are a developers then you should choose 20-532 and if you are a IT pro or Admin or Architect then you can choose 20-533.
Complete Module Details (20-533E) :
Module 1 : Introduction to Microsoft Azure
Module 2 : Implementing and managing Azure networking
Module 3 : Implementing Microsoft Azure Virtual Machines and virtual machine scale sets
Module 4 : Managing Azure VMs
Module 5 : Implementing Azure App Service
Module 6 : Planning and implementing Azure storage
Module 7 : Implementing containers in Azure
Module 8 : Planning and implementing backup and disaster recovery
Module 9 : Implementing Azure Active Directory
Module 10 : Managing Active Directory infrastructure in hybrid and cloud only scenarios
Module 11 : Using Azure-based management, monitoring, and automation
Complete Module Details (20-535A) :
Module 1 – Application Architecture Patterns in Azure
Module 2 – Deploying Resources with Azure Resource Manager
Module 3 – Building Azure IaaS-Based Server Applications
Module 4 – Creating Managed Server Applications in Azure
Module 5 – Authoring Serverless Applications in Azure
Module 6 – Backing Azure Solutions with Azure Storage
Module 7 – Comparing Database Options in Azure
Module 8 – Networking Azure Application Components
Module 9 – Managing Security & Identity for Azure Solutions
Module 10 – Integrating SaaS Services Available on the Azure Platform
Module 11 – Integrating Azure Solution Components using Messaging Services
Module 12 – Monitoring & Automating Azure Solutions
___________________________________________________________________________
How to activate Azure pass :
Email You need to create :
SBstudent**@hotmail.com
Password : Starbucks@123
Create a new e-mail ID and then follow the process .
https://www.microsoftazurepass.com/Home/HowTo
___________________________________________________________________________
How to Start :
Watch this video thoroughly https://www.youtube.com/watch?v=JPwGmHrTlcY&t=6s  
Create a Azure Subscription
visit https://docs.microsoft.com/en-us/azure/ and learn directly from Microsoft
---